JUHU +91 9820453031

BANDRA +91 9820451184

NARIMAN POINT +91 9930008950

EMERGENCY +91 9833066998
Monday - Friday

09:30am - 06:00pm

Saturday

09:30am - 03:00pm

Sunday

Closed
Working Hours
Bandra & Nariman Point
Monday - Friday

10:00am - 06:00pm

Saturday

10:00am - 06:00pm

Sunday

Closed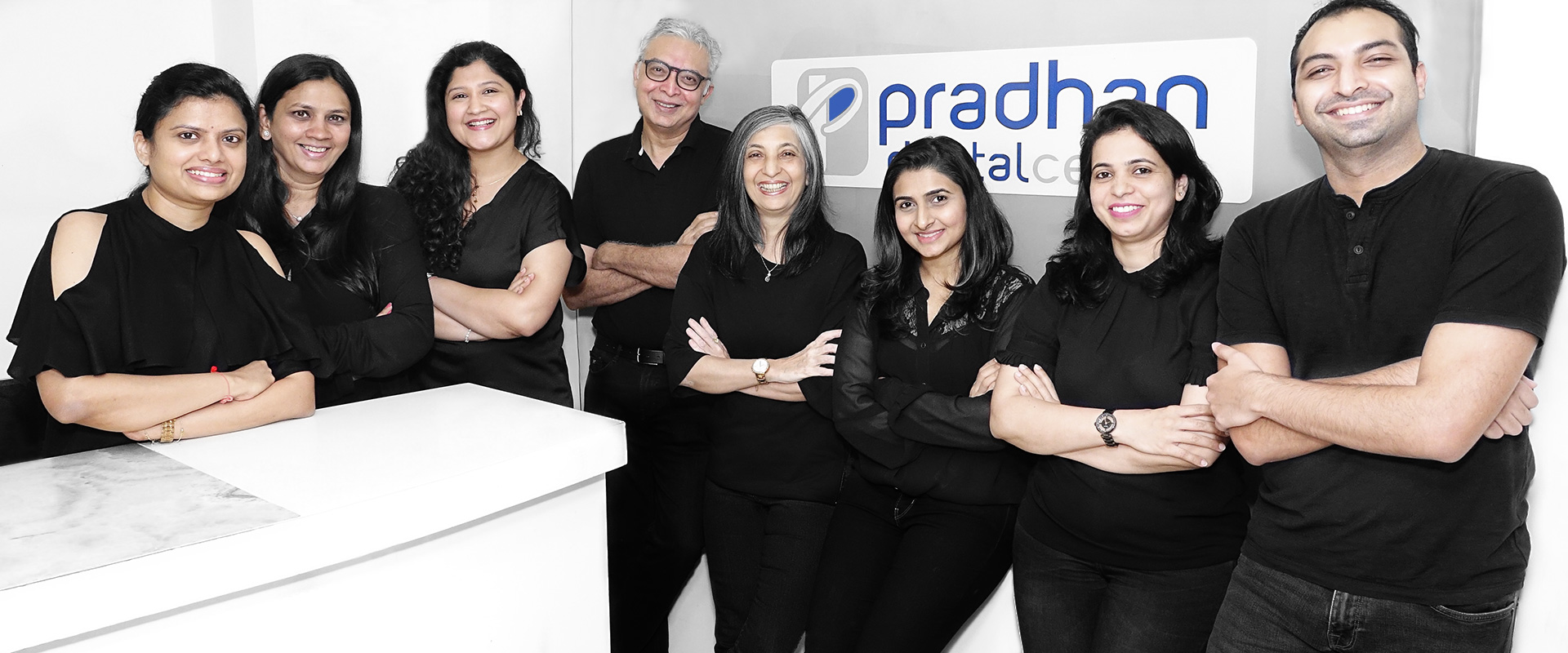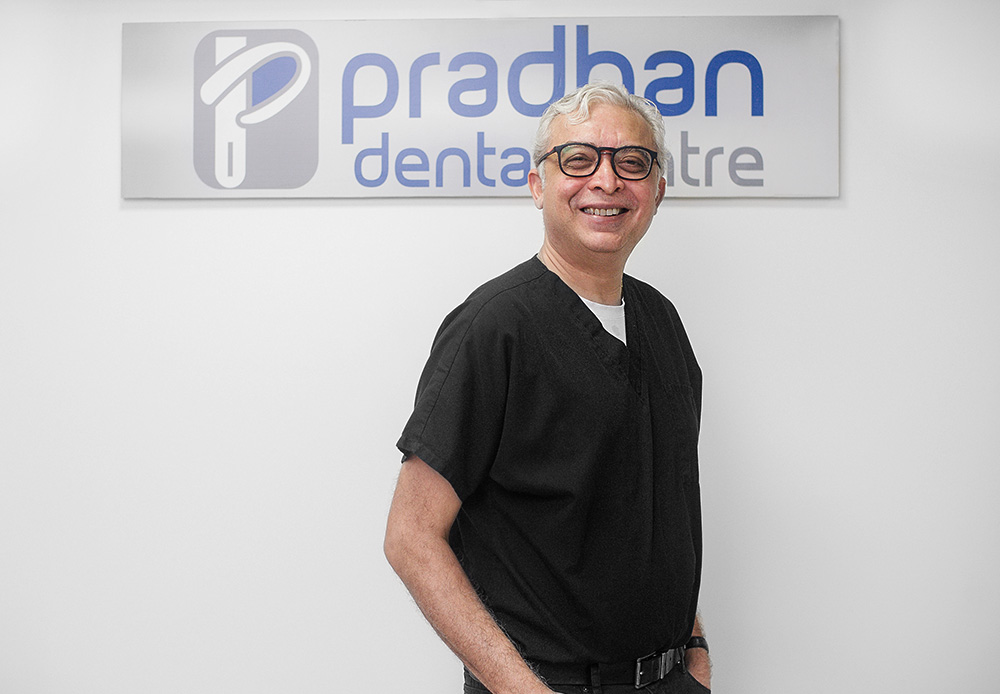 Dr. Suchetan Pradhan
B.D.S., M.D.S. (Prosthodontics), M.Sc. Laser Dentistry (Aachen Univ., Germany), EMDOLA (European Union)
BDS – Nair Hospital in 1983. MDS in Prosthodontics from Nair Hospital Dental College, Mumbai in 1986. MSc in Laser Dentistry, Aachen University, Germany 2008. First Indian amongst the first batch to receive European Master Degree in Oral Laser Applications (EMDOLA), European Union, 2009. Certificate program in Fixed Prosthodontics & Implant Dentistry – US, Germany & Holland, 1986-1987. Has 30 years of experience in the field of Dental Implantology. And has used virtually all the Implant Systems available in the market. Has lectured extensively & conducted several workshops in over 25 countries on Cosmetic Dentistry, Laser Dentistry, Fixed Prosthodontics & Implant Dentistry.​
Has been invited to lecture extensively & conducted several workshops in over 25 countries on Laser Dentistry, Fixed Prosthodontics & Implant Dentistry including the very prestigious Harvard School of Dental Medicine.
Has published several papers and has authored a chapter on Lasers in Implant Dentistry in the textbook titled Lasers in Dentistry – Current Concepts, Springer International Publishing AG 2017.
Has conceptualized, designed and conducts the Nobel fellow program for Nobel Biocare, Sweden. Member of Academy of Laser Dentistry USA & member International Committee till 2011. Board Member, Laser Education International, US. Founder President, Indian Academy of Laser Dentistry since 2004 to date. Visiting professor at Taipei Medical University February 2014 – January 2017. Director, Department of Laser Dentistry, Manipal Academy of Higher Education, Manipal. Professor, Implantology, Manipal Academy of Higher Education, University of Manipal. Editor-in-Chief – International Journal of Laser Dentistry. Global course conductor & mentor Noble Biocare, Sirona & Biolase. Head of Dentistry, P.D. Hinduja Hospital, Bombay since 1990. Director, Pradhan Dental Centre.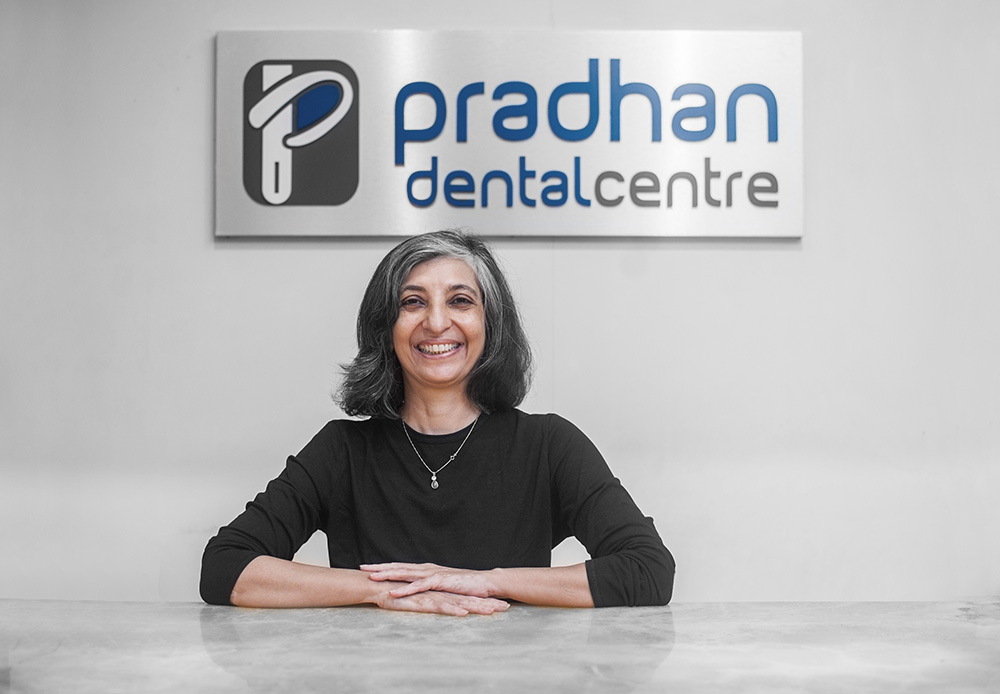 BDS – Nair Hospital in 1984. MDS in Oral Pathology from Nair Hospital Dental College, Mumbai in 1988. Dr. Shalini Pradhan has been in private practice for the last 30 years. She is a Director at Pradhan Dental Centre in Juhu, Mumbai. She has dedicated herself to elevating the standards of clinical practice to that of international quality standards. Towards that end her clinic is ISO 9001: 2000 and Environmental Management Systems 14001 2004 certified.
Dentistry and children both being her passion, a large part of her patients are children. Demystifying and making dentistry more palatable to children is her forte. She also has brought about interesting innovations in the treatment of children in Dental clinics, by extensively using modern gaming technology to entertain and distract apprehensive children. She has been highly successful in treating difficult cases without the use of general anesthesia with her new techniques and methods of child management.
Social work is her other area of interest. Towards this end she combines dentistry, art and charity. She has converted her clinic walls into an art gallery that show cases art for charity. All proceeds are donated to different NGOs. She has worked with various charities such as Mobile Crèches, Aseema and is currently working with the charitable organization, Chip that does work on raising the standards of BMC schools.
Dr. Shalini loves reading and writes extensively on various subject's dental as well as non-dental. She spends plenty of time with her children guiding them through the tribulations of life as well as having fun with them. She loves traveling especially within India experiencing and enjoying the diversity of this vibrant country. Given the opportunity she would reinvent herself as a journalist and time permitting she would love to be a medical journalist. Writing a travel book is also something she dreams of.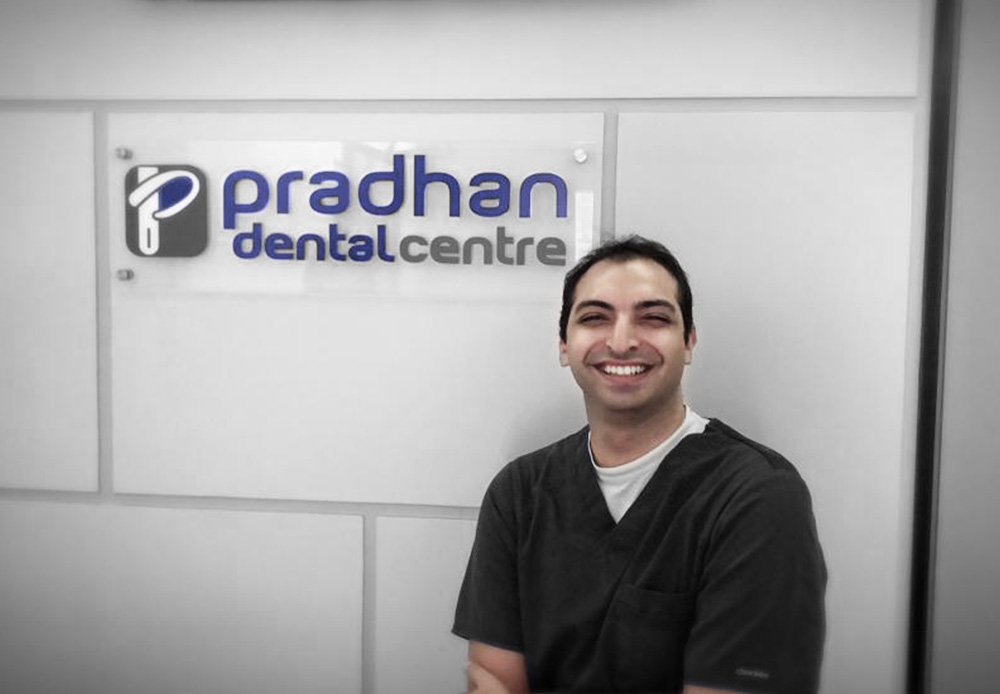 Dr. Siddhant Pradhan
M.D.S Oral & Maxillofacial Surgery
Creator of Dr. Daantwala – A low cost dental clinic and training module. Cricket crazy and lover of maxillofacial surgery.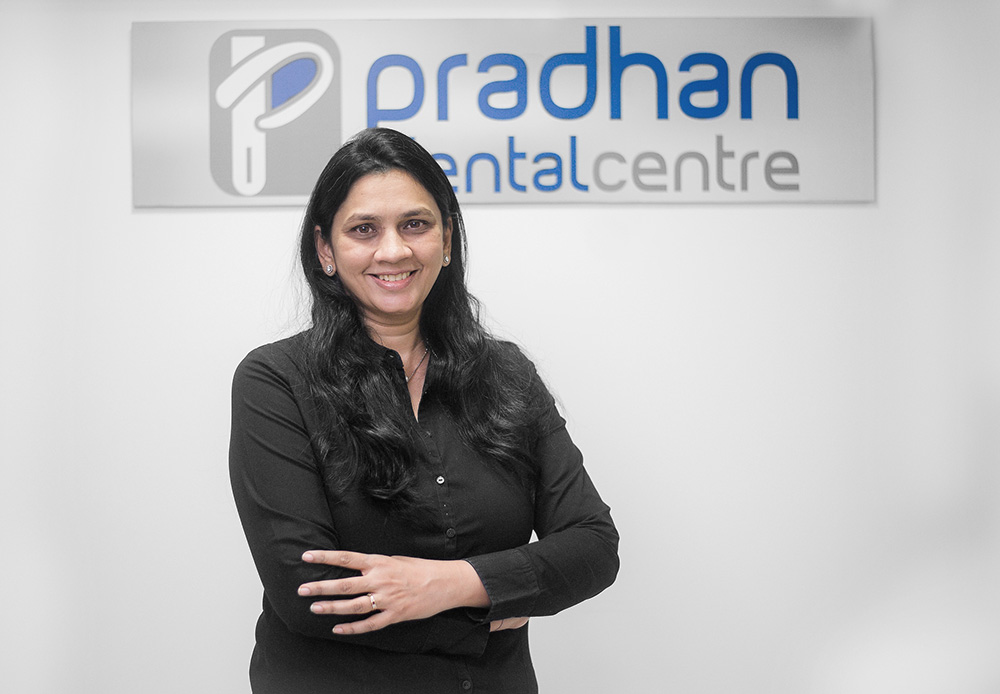 Dr. Madhavi Mehta
M.D.S. Conservative Dentistry
She has completed her post-graduation in Conservative Dentistry and Endodontics from Nair Dental College and Hospital, Mumbai in 1995. She has been working as a Consultant Endodontist at Pradhan Dental Centre for the past 21 years. She believes in constantly upgrading her skills and regularly attends workshops and conferences to keep abreast with the latest techniques. Her area of expertise lies in the re-treatment of previously endodontically treated teeth.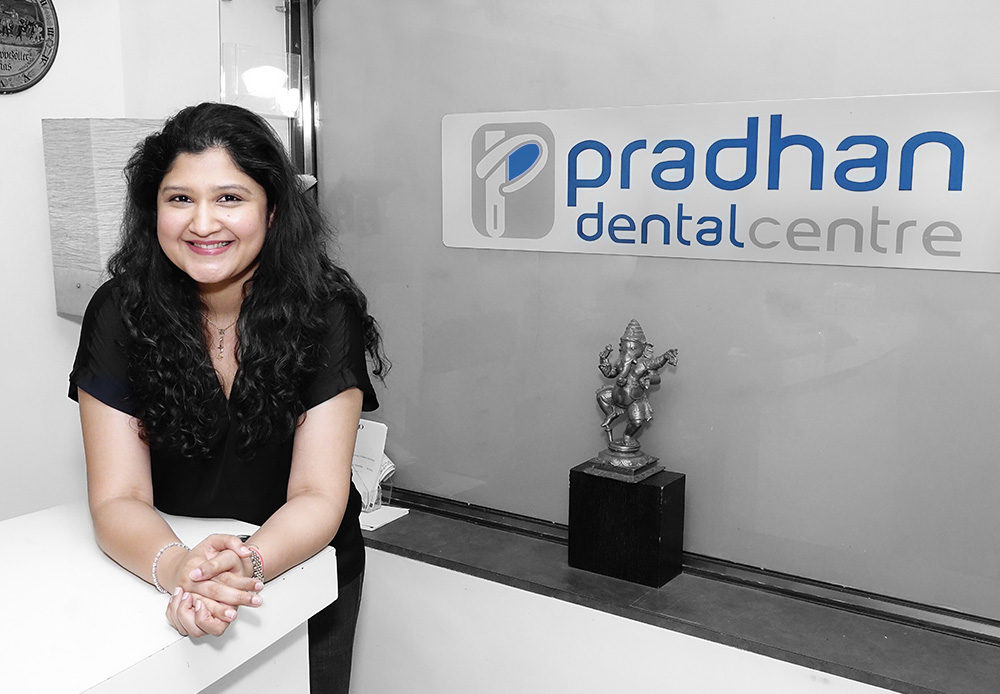 Dr. Monica Gupta
M.D.S. Prosthodontic and Laser Dentistry
She graduated from SDM College of Dental Sciences, Dharwad and completed her post-graduation from Pad. D.Y Patil Dental College & Hospital, Mumbai. Dr. Monica is also a practicing Laser Dentist. She specializes in single and full mouth Implant Restorations.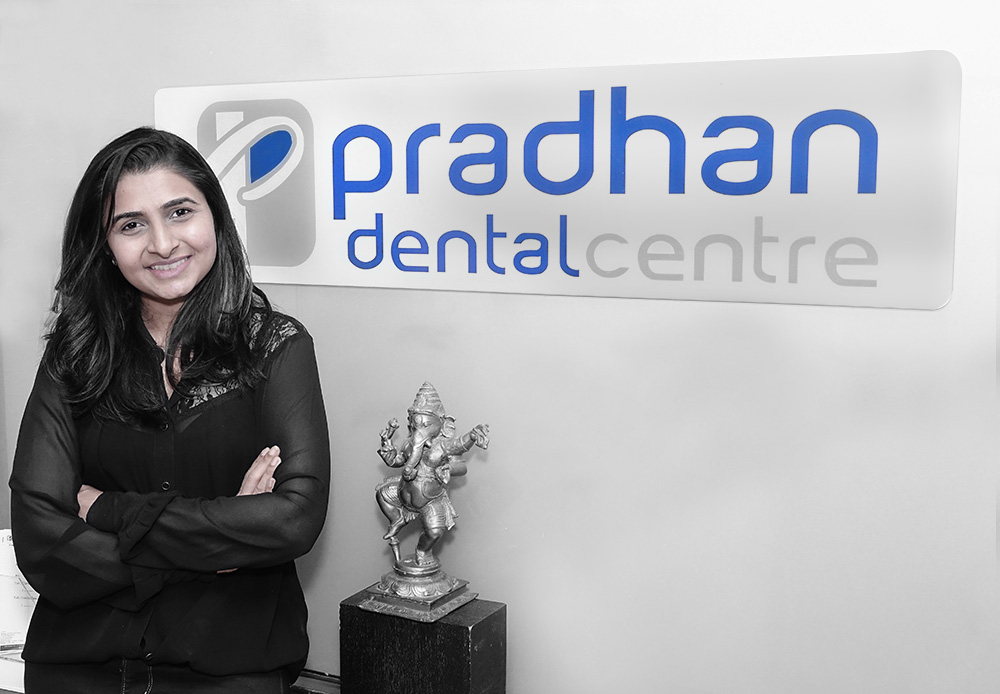 Dr. Amrita Mehta Shah
M.D.S. Periodontist and Laser Dentistry
She has graduated from Dr G.D Pol Dental College and completed her post-graduation in Clinical Periodontology and Implantology from Pad. Dr. D. Y Patil Dental College. Dr. Amrita is working as a Periodontist with Pradhan Dental Centre and has been with the clinic since 2010. Her area of expertise lies in gum infections.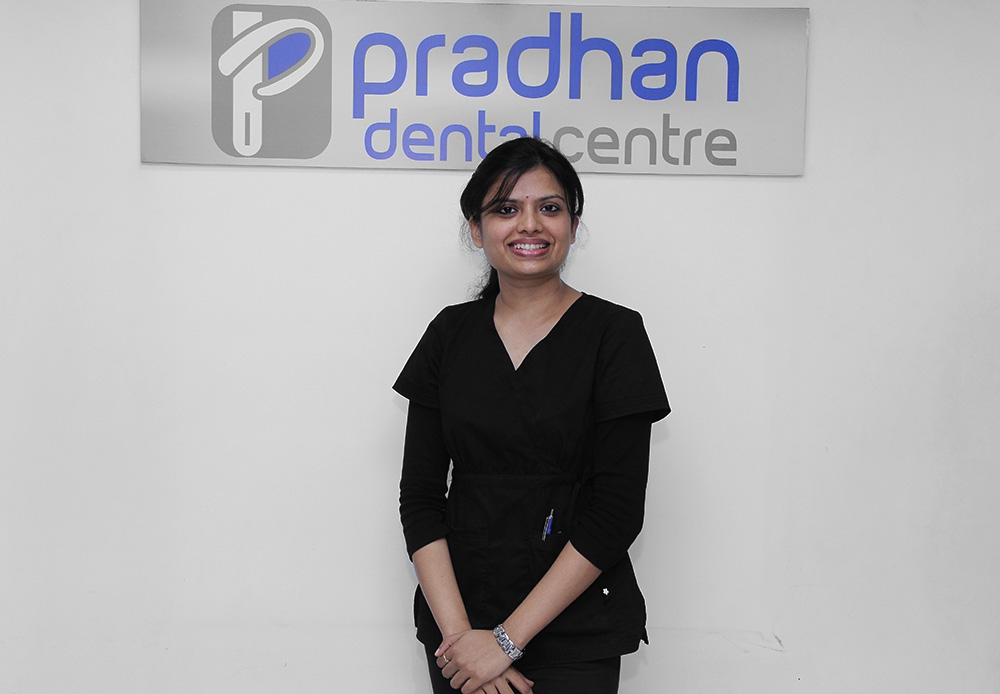 Dr. Anisha Shah
B.D.S. Restorative, Pediatric and Laser Dentistry
She has completed B.D.S in 2006 from Dr DY Patil Dental College. She has also done her Diploma in Laser Dentistry with IALD. Dr. Anisha has been with Pradhan Dental Centre since 2010 & specializes in General Dentistry.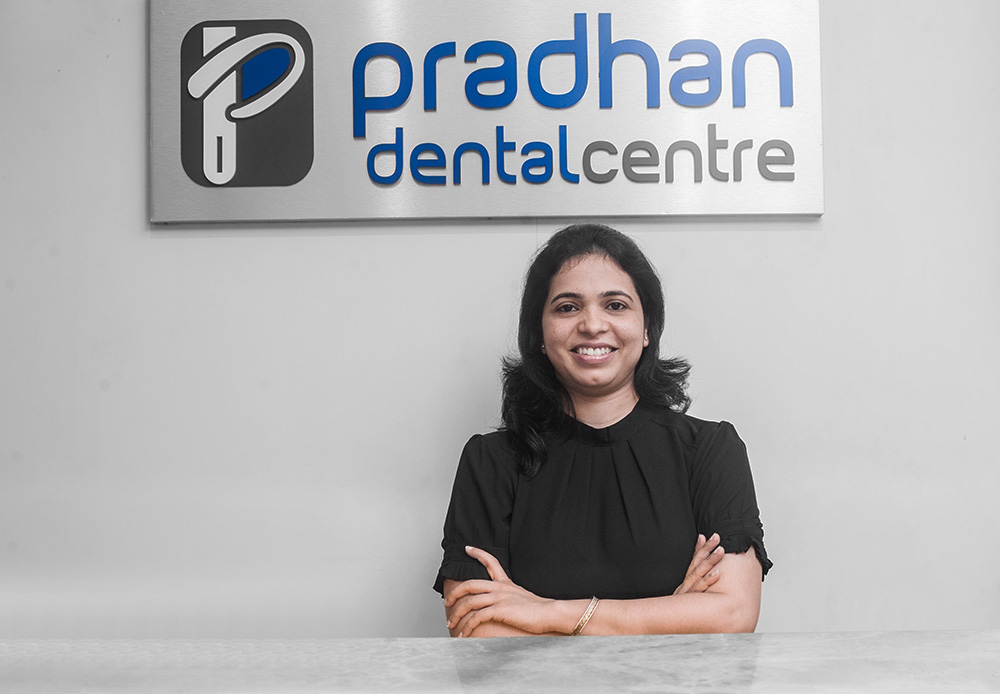 She graduated in 2006 from M.R. Ambedkar Dental College, Bangalore and has been in private practice since then. With an experience of 13 years, she specializes in General Dentistry with great interest in Rootcanals, Cosmetic and Pediatric Dentistry.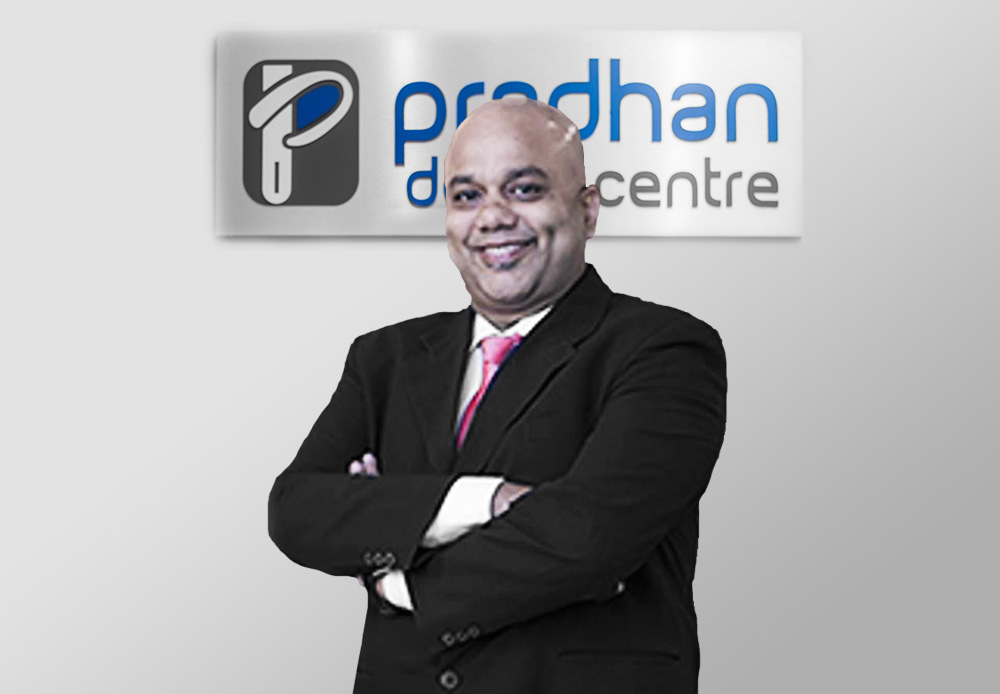 Dr. Mukul Padhye
M.D.S. (Bom)
Oral & Maxillofacial Surgeon. Professor & Head of Dept. of Oral & Maxillofacial Surgery, Pad. Dr. D.Y. Patil Dental College & Hospital, Navi Mumbai.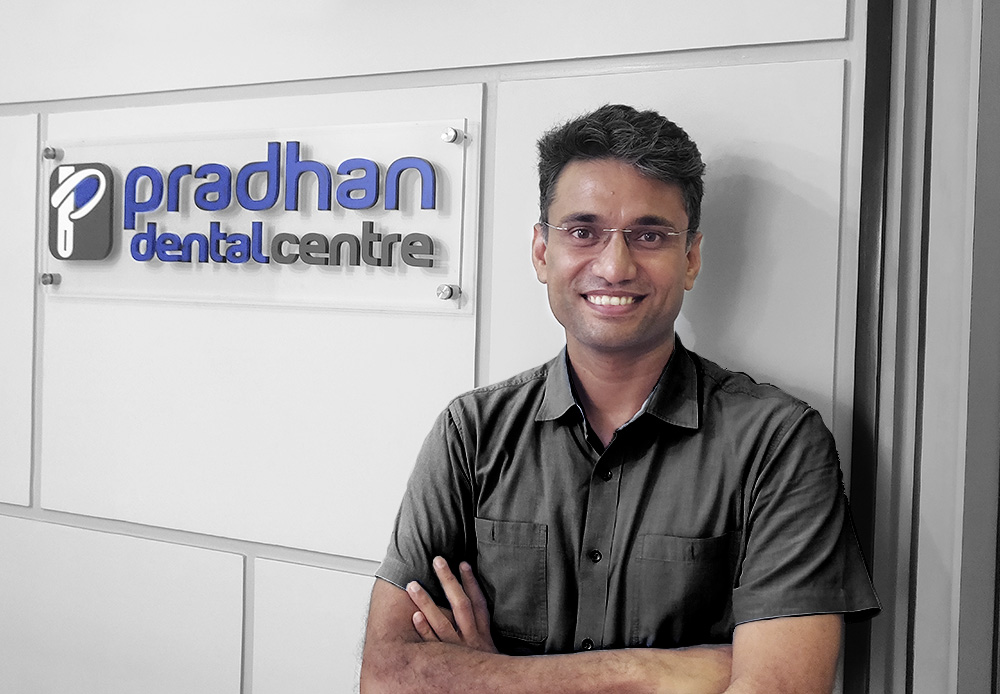 Dr. Arun Nayak
MDS Orthodontic, Gold Tier Invisalign Provider
Dr. Arun Nayak has completed his Master's Degree in Orthodontics from Government Dental College in 2004. He's among the youngest certified Diplomate of Indian Board of Orthodontics in India. He's a Professor in Orthodontics and conducts teaching courses for dental postgraduates. He loves trekking, mountaineering, running marathons, travelling and is an advanced hobbyist photographer. He's mild-mannered, easy to get along and loved by his patients.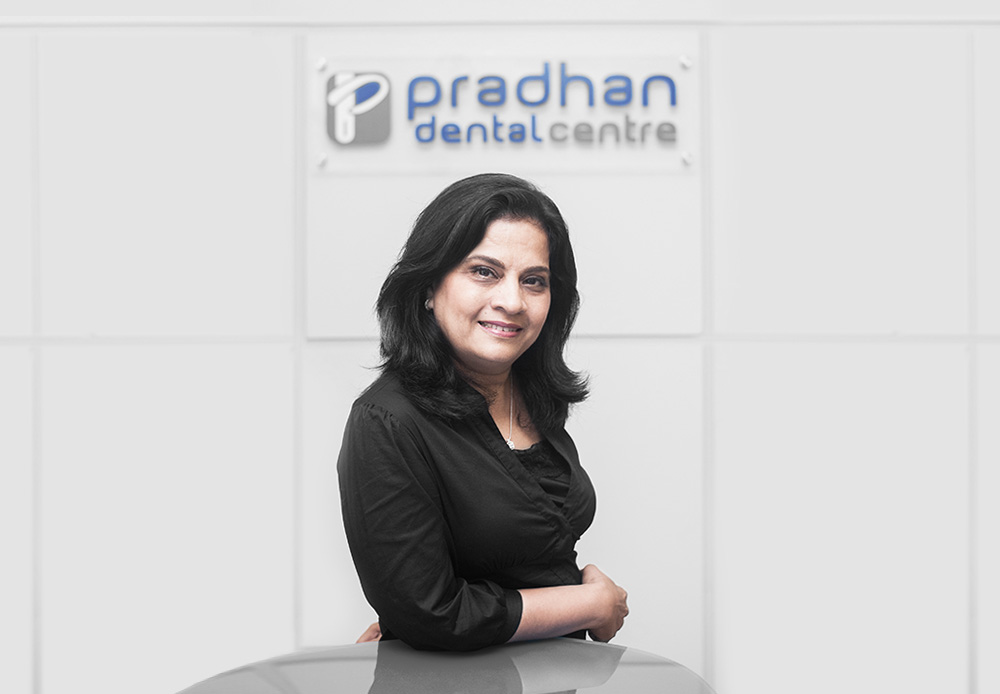 Dr. Tejal Wagh
M.D.S Oral Maxillofacial Synergy, M.D.S Orthodontics
Dr. Tejal Wagh is an Orthodontist with over 20 years of experience in private Orthodontic practise
Dr Tejal completed her Masters in Oral & Maxillofacial Surgery & followed it up with a Masters in Orthodontics from Nair Hospital Dental College, Mumbai in 1988. She has since been in active private practice concentrating on Orthodontics at the Pradhan Dental Centre.
Dr Tejal is a member of the Indian Orthodontic Society & the Indian Dental Association. She has attended many national & international conferences to keep abreast of current treatment modalities & has endeavoured to upgrade her skills for the benefit of her patients. She is committed to helping all her patients & continually strives for excellence. Tejal has developed a very comforting style of working with children of all ages & also has a high concentration of adult patients who aspire to correct their smile & occlusion. She is especially passionate about doing "Interceptive Orthodontics" in a bid to avoid more invasive treatment later.
Attention to detail during diagnosis & treatment takes top priority in her practice. Individualised treatment plans are drawn up & followed thus ensuring optimal patient care & comfort. As Orthodontic treatment periods require a certain bond to develop between patient & doctor, all care is taken to create an environment which is patient friendly, comfortable & relaxed. Outside of work, Tejal is supported by her dentist husband Sunil & daughters Rhea & Tanisha.
She has many friends & takes keen interest in Indian art & handicrafts. She is actively involved in a project to support unemployed ladies & new mothers in slums to make shawls & stoles & hand them the sale proceeds. She also loves to travel & experiment with baking goodies for friends & family.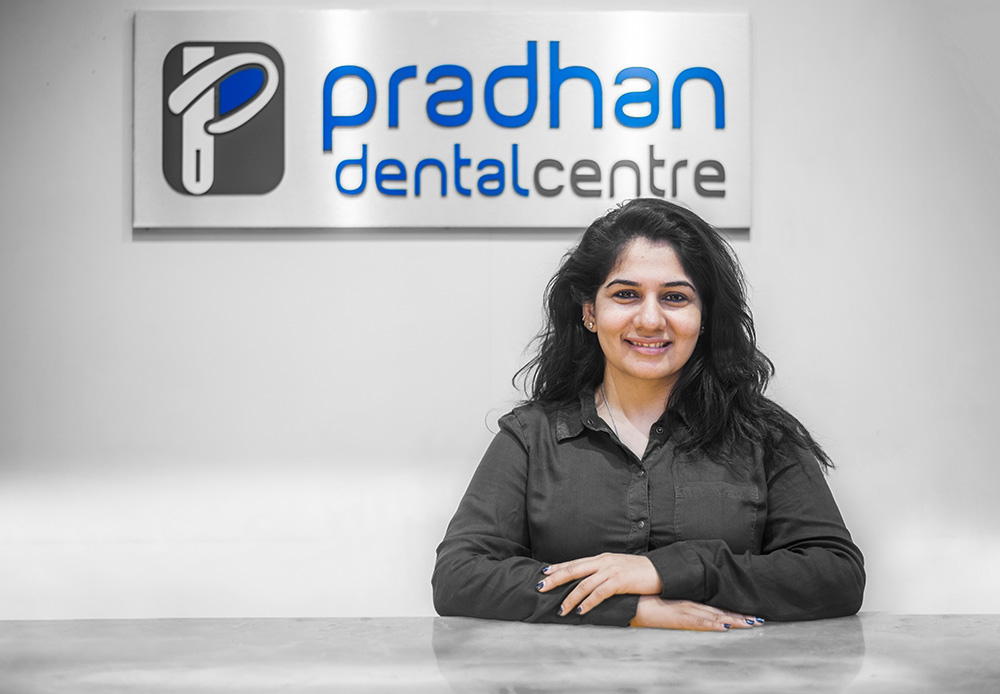 Dr. Raashi Khatri Panjabi
MD (USA), BDS Diplomate of American Board of Orofacial Pain, Fellowship of Orofacial Pain & Temporomandibular Disorders (UMDNJ-USA)
After obtaining her BDS degree under Maharashtra University (MUHS) in 2004, Dr. Raashi Khatri Punjabi pursued a MD degree along with a Masters in Orofacial pain and Temporomandibular Disorders at the University of Medicine and Dentistry of New Jersey, UMDNJ-NJDS, USA.
She is the youngest Diplomate of the American Board of Orofacial Pain (ABOP) and also has a Fellowship in Orofacial pain from New Jersey Dental School.
She aims at providing treatment for patients suffering from Headaches (migraine, cluster, tension type, cervicogenic etc.), Temporomandibular Joint (TMJ) disorders, Neuropathic pain (Neuralgias including Trigeminal neuralgia).
The Team