JUHU +91 9820453031

BANDRA +91 9820451184

NARIMAN POINT +91 9930008950

EMERGENCY +91 9833066998
Monday - Friday

09:30am - 06:00pm

Saturday

09:30am - 03:00pm

Sunday

Closed
Working Hours
Bandra & Nariman Point
Monday - Friday

10:00am - 06:00pm

Saturday

10:00am - 06:00pm

Sunday

Closed
Established in 1988, by
Drs. Suchetan & Shalini Pradhan
Pradhan Dental Centre is a multi centre, general dental service provider with more than 30 years of experience, knowledge, and expertise to make your dental experience pleasant, soothing and comfortable. Our high technology equipment's, spacious and pleasant clinics with our ever attentive and friendly staff make us Centre's of Excellence in Mumbai.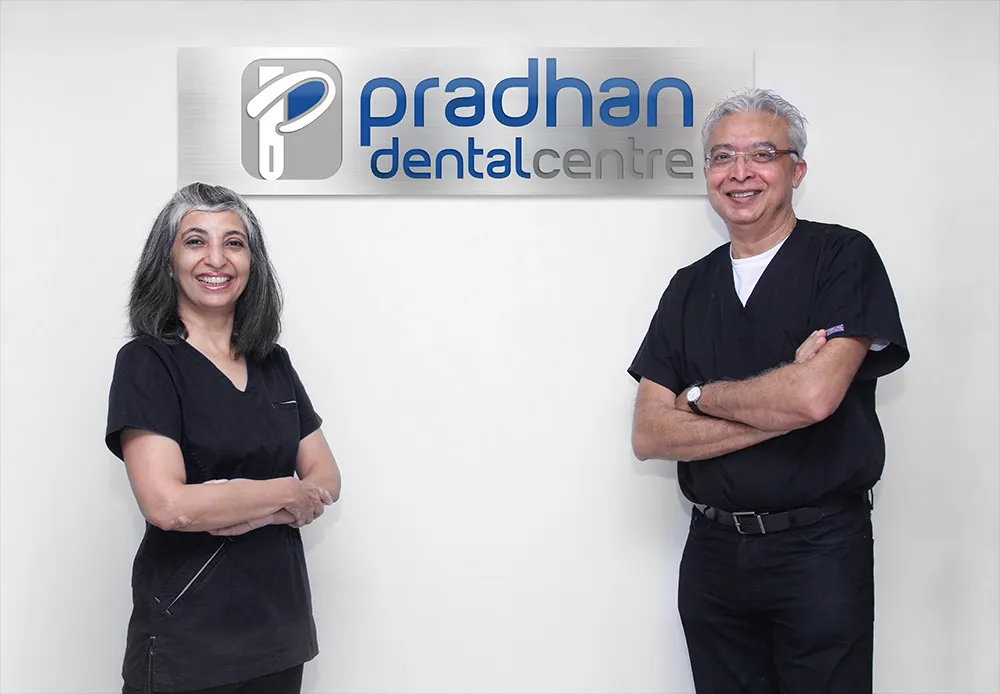 WE CURRENTLY OPERATE
THREE CLINICS IN MUMBAI
Pradhan Dental Centre Juhu
is situated right in the heart of Bollywood and caters to a large spectrum of well-heeled families, from corporate honchos to movie stars, expatriates to locals and also medical dental tourists. All patients have one thing in common they come seeking us because we have a high level of commitment and empathy to offer and above all a pain-free experience.
Pradhan Dental Centre Bandra
is a modern clinic with a contemporary look and an international feel. Our large well equipped and well-lit dental operators make it a poster book Clinic. Dr Pradhan's personal collection of modern Indian art makes visiting the clinic a unique experience.
Pradhan Dental Centre Nariman Point
our new spacious and plush South Bombay clinic offers all the same services as our other centres. All our staff trained and experienced with us are now available at the new location.
Our ever efficient and warm team of doctors and staff work hard to make your experience a comfortable one. Come and enjoy our friendly staff, soothing inside-outside ambiance and above all the compassion, expertise and advanced dental facilities at Pradhan Dental Centre.
About Us